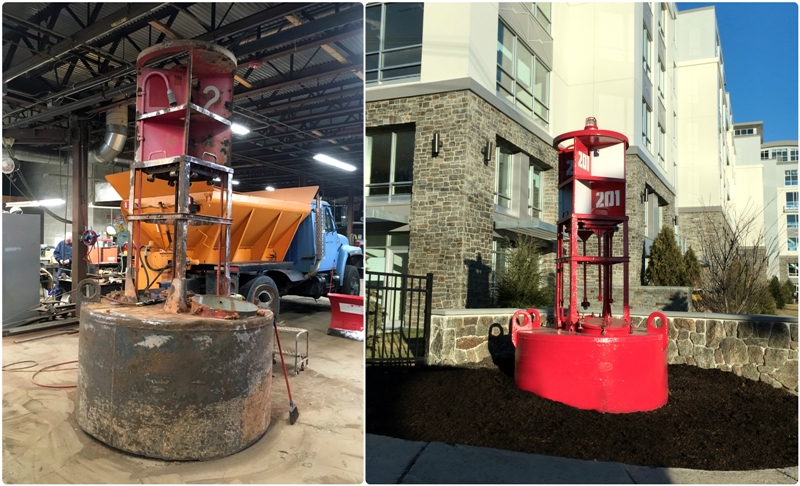 ---
A symbol of the sea is catching eyes at its new home, Elliott Landing, where it rests on dry land. Cummings Properties recently refurbished and installed the authentic bell buoy as a public art sculpture.
"The buoy celebrates Beverly's nautical past and reinforces Elliott Landing's waterside theme," said Steve Drohosky, vice president and general manager at Cummings Center. "It is also in keeping with Cummings Properties' longstanding practice of rescuing and recycling pieces of history - just as we did when we turned 'The Shoe' into Cummings Center."
Cummings Properties bought the maritime navigational aid via auction from the U.S. Coast Guard's Northeast Buoy Depot in South Weymouth, a facility that refurbishes buoys for redeployment or sells them, typically for scrap metal. The proceeds of the purchase benefitted the Base Boston Morale, Well-Being, and Recreation Division, which supports local Coast Guard personnel.
Originally 20 feet tall and six feet wide, the heavily rusted buoy weighed 6,500 pounds. Cummings staff wire-brushed it clean and removed the bottom stem and counterweight, resulting in its current height, a still-imposing 14 feet. After applying several fresh coats of bright red and white enamel paint and installing a white light at the top, six staff members maneuvered the historical artwork into place with the help of a telehandler, a piece of heavy equipment that is a cross between a crane and a forklift.
View more photos of the restoration and installation below. (click to enlarge)
View The Boston Globe's coverage of this sculpture project.
---